Comenzamos el año 2017 con una nueva sesión de los seminarios Research in Progress (RiP) del #OCA.
El viernes 20 de enero de 2017, la sesión corrió a cargo de Isabel Rodríguez de Dios, que presentó la investigación "Desarrollo y validación de una escala para medir competencias digitales en adolescentes". Dicha investigación forma parte de su Tesis Doctoral (Estudios 1 y 2).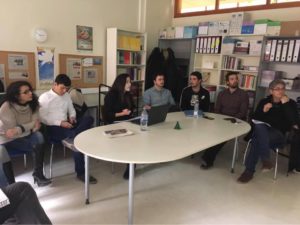 De febrero a junio de 2017, Isabel Rodríguez de Dios realizará una estancia de investigación en la prestigiosa Amsterdam School of Communication Research (ASCoR), de la Universidad de Amsterdam, para integrarse en el equipo de Patti Valkenburg (también fundadora y directora del Center for Research on Children, Adolescents and the Media). Allí tendrá la oportunidad de seguir formándose, en particular, en las técnicas de análisis factorial confirmatorio y en la técnicas de validación de instrumentos de medida.
Nos vemos en el siguiente RiP del #OCA, el 24 de febrero de 2017, a las 10:00 horas con una nueva edición, a cargo de Marta Cerezo Prieto, "Las actividades extracurriculares y el fomento de las vocaciones científicas desde la extensión universitaria: un estudio exploratorio sobre los hábitos culturales y el papel mediador de profesores y padres en el contexto del II Festival de Primavera Científica".
Os esperamos!!
Nuestro lema: investigar, compartir y difundir conocimiento para transformar la realidad